Here, we try to show you the top best universities in Khost. We also made a list of these universities. We try to mention the best qualities of these universities. All of these universities are developing in many ways.
Our list will help you to decide which university will be perfect for you. Any student can use the ranking to explore the choice options. Students can also measure these universities' academic facilities, research performance, and reputation in the region.
Teachers are very professional. University's attractive campuses, facilities, extracurricular activities will impress students. Hopefully, our article will help you and you will be able to find out your information to choose a university.
What are the top best universities in Khost?
Check the list below to find and know the best universities in Khost:
Best universities in Khost
1. Shaikh Zayed University, Khost
Shaikh Zayed University, Khost is a very small co-educational higher education institute. This university is officially registered in 2003. This university has more than 3000 students. It has a private radio station for the journalism sector.
It provides its students several facilities including sports. This one has a hostel for students, for female students has a separate dormitory. It is one of the best universities that have e-learning facilities.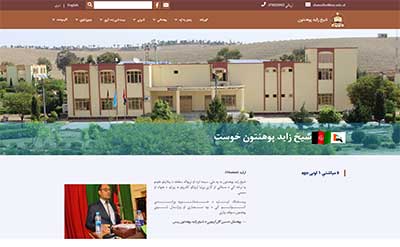 | | |
| --- | --- |
| Year of Founded | 2000 |
| Institute Type | Public |
| Graduation Type | Not reported |
| Number of Faculties | 12 |
| Website | https://szu.edu.af/ |
More Universities in Afghanistan
Best 10 Universities In Kabul
Universities In Kandahar
Top Best Universities In Nangarhar
Best Universities In Parwan
2. Pamir Institute of Higher Education
Pamir Institute Of Higher Education is a private institute located in an urban area of the large city of Khost, Southeastern Afghanistan. It is officially known by the Ministry Of Higher Education of Afghanistan.
Pamir University always tries to maintain its quality. Its goal is to provide the best service to its students. It is operating 4 sections (LLB, BBA, BSC, BEL). The university also provides academic, non-academic, and facilities and services.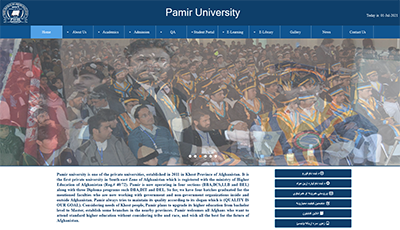 Conclusion
In contrast, if you are looking for a university with its reputation, facilities, several academic service, and others. We made a list to provide you these universities' information.
You have to know your requirements before selecting a university for you. It will help you to find a suitable university for you easily. Moreover, it is very important to have a list based on their qualities.
In this list, we tried to give you the correct information about these universities so you can choose a university from this list. This list will be helpful for students.